The Surrounding Area
Warsop Vale is a small mining village situated in North Nottinghamshire, some 5 miles north of Mansfield. In spite of its industrial heritage it lies in the very picturesque area known as the Dukeries and is easily accessible to Clumber Park, Thoresby Park, Rufford Park and the Portland Estate of Welbeck. In addition to these jewels, there is within reasonable distance, Southwell Minster, Nottingham City, Newstead Abbey, one time home of the poet Lord Byron and Chatsworth House, the seat of the Duke of Devonshire.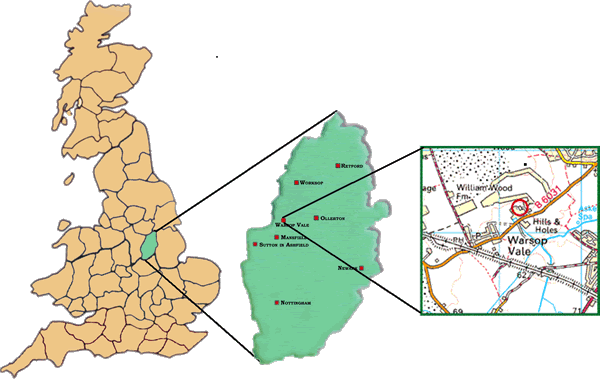 The market towns of Mansfield, Chesterfield with its Crooked Spire Church, Worksop the location of the NT Mr Straws House and Newark with its Castle are easily accessible and afford good rail links to all parts of the UK.
Adjacent to the village itself are very pleasant walks to Sookholme with its medieval church, or through Williamwood to Langwith, Langwith Cotton Mill and Cuckney or alternatively over the fields to the Hills and Holes and the river Meden.
Warsop Vale, due to its mining origins, may be considered a weed at this moment in time due to its dereliction following the demise of the National Coal Board. Although the spirit of the village has been badly damaged but not broken, in time with the completion of the proposed redevelopment project and with effort, the village will flourish again and will take its rightful place in the beautiful countryside that surrounds it.